While going through OTT platforms, you would find a plethora of Ekta Kapoor Web Series on OTT platforms. She is the unmatched queen of content creation and is the only producer who significantly anchored her presence on all three formats of the entertainment industry, including television, film and digital platforms. She started her journey by producing daily soaps and gradually conquered the realm of movies along with web series. Be it horror, erotic or action-drama, Ekta has explored every content genre with the champion attitude. The ingenious producer is visionary as she can understand the mass interest and delivers content accordingly.
It is hard to list every Ekta Kapoor show; therefore, we have listed the top 10 Ekta Kapoor web series of all time to make it easy for you.
1.Apaharan (Action-Drama)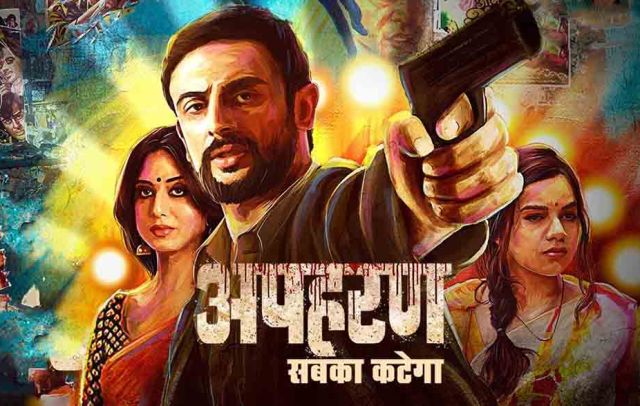 The plot of the story moves around a kidnapping and conflicts that occur after it. The action-drama web series stars Jism-2 fame Arunoday Singh, Nidhi Singh and Dev D fame Mahi Gill in leading roles. The entire series is shot in Uttarakhand. The prime reason behind listing this one of the best Ekta Kapoor Web Series at the first position in our list is, like the most appreciated action-thrillers Mirzapur and Sacred Games, Apaharan was also cherished by the audience with the same intensity. The rage created by these two highly appreciated web series also benefited the Apahran.
2.Bose: Dead or Alive (Historical Period Drama)
As the name suggests, this historical drama web series revolves around legendary freedom fighter Netaji Subhas Chandra Bose. The character of Netaji played by Raj Kumar Rao, doesn't need any introduction as he is critically acclaimed and known for his acting methods. This much-loved Ekta Kapoor web series reveals some of the unknown facts about Netaji and has received numerous awards as well. Director Pulkit has done an excellent job as he digs into the less-known life of Netaji and ensures that thrill in every episode of the series.
3.Cyber Squad (Romantic Thriller)
Released in 2017, Cyber-Squad contains the adventures of four friends who make efforts to find sync between actual and virtual worlds. Together they create a cyber squad to help police grab wicked criminals involved in cybercrimes. It would be an obvious choice for those who have seen such movies or shows from the western media.
4.Dev DD (Drama)
As the name suggests, this Ekta Kapoor web series is connected with Devdas, the Bollywood movie directed by Sanjay Leela Bhansali. It can be said, this Alt Balaji web series is the opposite version of Shahrukh Khan's Devdas, but with an ultimate twist. In the original movie, the lead role of Devdas was played by a male, but here the lead character of Dev DD is played by a female. Henceforth, it is the same story but with a female point of view.
5.Gandii Bat (Erotic Drama)
One of the most popular Erotic Web Series from Ekta Kapoor, Gandii Baat ( formally 'Dirty Talk' in English ) highlights a separate story in each chapter taken from the rural background of India. Until now, Alt Balaji has released two seasons of Gandii Baat, including four episodes per season. The narrative covered in all episodes has the background of rural India, covering fictional yet sensual tales.
6.Home (Drama)
Like any other family drama showcased under the banner of the giant Balaji Telefilms, Home articulates the values and joy around the little things that unite the typical middle-class Indian family. This web series has a strong cast, including some critically acclaimed veteran actors such as Annu Kapoor, Parikshit Sahni, Chetna Pandey, Amol Parashar and Supriya Pilgaonkar. It is one of the classic Ekta Kapoor Web Series that revolves around the conflicts of a typical Indian Family against the system.
7.Puncch Beat (Romantic Drama) 
Everyone would have watched or at least listened to Karan Johar produced Students of the Year. There is no hesitation to indicate that this Ekta Kapoor Web Series is another version of SOTY. The web series cast includes Big Boss fame Priyank Sharma, Harshita Gaur, Kushi Joshi and Siddharth Sharma. The plot of the series is based on Rosewood High school, a prime Indian institute and the narrative moves forward with the conflict and competition among the students.
8.Romil & Jugal (Drama)
Same-sex marriage and Article 377 has been the hot topic for discussion in recent times, and Ekta Kapoor smelled the heat of the topic and released Romil & Jugal on Alt Balaji. The first season consists of ten episodes narrating the gay love story between 2 boys who smash society's stereotypes.
9.XXX: Uncensored (Erotic)
The name may lure you that it would be one of the most erotic Indian web series. Like Gandii Bat, this web series is also episodic, which means each episode narrates a separate story. The series contains five episodes, and each has a different plot and story. Starring Rithvik Dhanjani and Kyra Dutt in the lead roles, makers have failed in replicating the Gandii Bat.
10.Ragini MMS Returns (Horror) 
This web series can also be on the list of Erotic Web Series from Ekta Kapoor, but categorising it in the horror genre would be appropriate. The series highlights Ragini, who went into a new college and found new ghosts and stories haunt her. The cast of the web series includes Varun Sood, Karishma Sharma, Sneha Namanandi and Nishkarsh Arora.
So, this list must have shown the versatility of the content produced by Ekta Kapoor. She is unstoppable and continuously coming up with new stories to entertain us. No doubt, she is a woman who climbed to the top in a male-dominated arena.